Serving The Rome, Atlanta, And The North Georgia Area.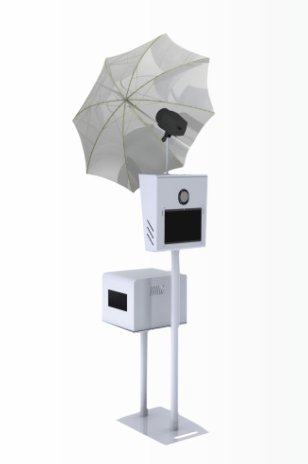 PBI 11
The small sleek design of the PBI 11 photo booth is great because it is able to fit into smaller areas if need be. Don't let the smaller design fool you because it has state of the art technology. This booth is an "open air" style. Meaning that there are no enclosures so you are able to fit more people in the photo. As they always say more the merrier.
The specs. of the PBI 11:
-12" touch screen
- DSLR Camera, Canon T6
- Surface Pro 3 Computer
- windows 10 i3, 4 gb Ram, 120 gb SSD
- DNP RX1-HS Printer
- Wireless Keyboard
- Umbrella and flash system
- Sleek design
- It sits 72" tall with the umbrella and only 14" wide
This photo booth runs on a software called darkroom 3. There are so many unique features that this software can do that many photo booths can not. One of the main reasons I went with this booth is because along with being able to print out your usual prints.(which can either be a 2x6 or a 4x6). It can also share to all of your social medias including: Facebook, Instagram, or snapchat! Not only that you can also share it by email or SMS. All this is included in every event rental. Book the Photo booth for your next event and have lasting memories!
For more Information or any questions fill out below